Oral care is a science and technology that focuses on oral health with the aim of improving quality of life (QoL) through prevention of oral diseases, maintenance / promotion of oral health, and rehabilitation. 
For more information, please access to JSOC's official homepage.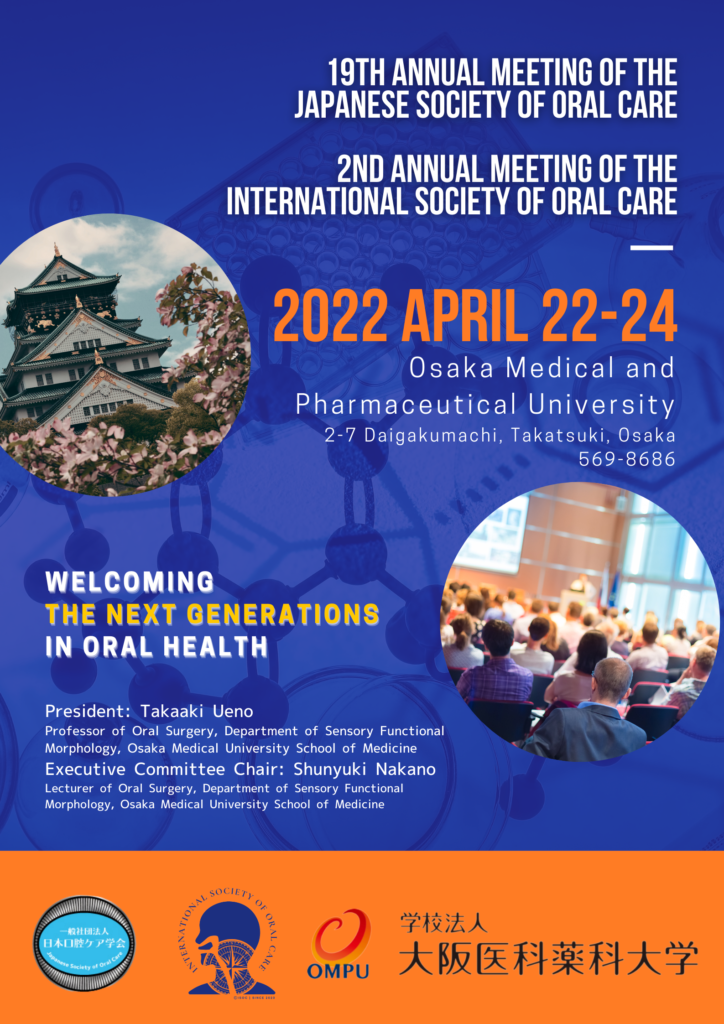 Japanese Society of Oral Care (JSOC) is multidisciplinary organisation consists of various health sectors, such as: doctors; dentists; dental hygienists; pharmacists; nurses; speech therapists; midwives; care workers; nutrition managers; public health nurses; physiotherapists; teachers and home helpers, etc. JSOC aims to greatly contribute to the improvement of the oral health related – QoL of the people. In 2020, JSOC has established the International Oral Care Society to strengthen the understanding of oral health and to build an international network for better health within the aim. 
For more than three decades since founding of Japan Oral Care Conference as its predecessor to date, the Japanese Society of Oral Care has executed widely-ranged researches and clinical educations not only in areas of medical science, dentistry, nursing science, dental hygiene, and speech-language-hearing therapy, but also in pharmaceutical sciences, social welfare, and dietetics fields contributing to the development of supportive therapy for various disease as well as promotion of healthy longevity and disease prevention of the public.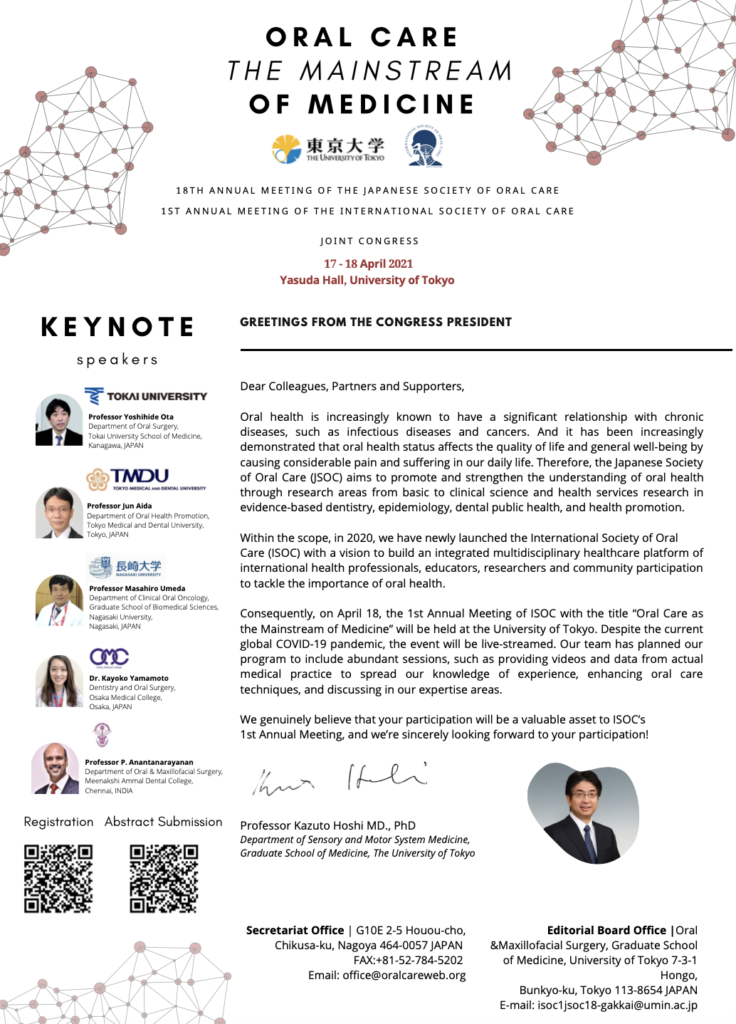 In 2021, the year when JSOC celebrates its the 30th anniversary, we establish International Society of Oral Care, with JSOC as a parent organization to share our findings and expertise globally and correspondingly to learn from the researches and experiences of the world, and to contribute on a world scale to address universal themes including health care and positive eating.
JSOC keeps the members motivated to work on oral care. We provide opportunities and platform for professionals engaged in the fields of health care, medical care, welfare, etc. to collaborate, and to practice, conduct training, survey, research, and exchange information on oral care both on healthy and disabled people, at home or hospitalized.
What do we do to achieve our goals?
Our activities include:
hosting workshops related to oral care;

publishing academic journals;

performing oral care certification;

working on improving and devising equipment and instruments for oral care;

sharing information with mailing lists, on newsletters, and so on.
We will also carry out other activities in any aspects of oral care, planned from a broad perspective.