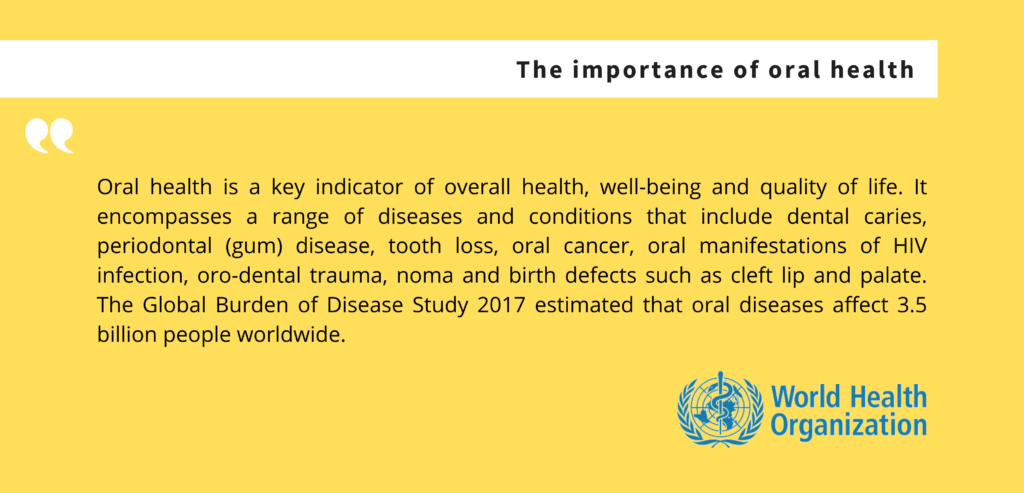 Japanese Society of Oral Care (JSOC) is multidisciplinary organisation consists of various health sectors, such as: doctors; dentists; dental hygienists; pharmacists; nurses; speech therapists; midwives; care workers; nutrition managers; public health nurses; physiotherapists; teachers and home helpers, etc. JSOC aims to contribute to the improvement of the oral health-related quality of life (QoL) of the people. In 2020, JSOC has established the International Oral Care Society to strengthen the understanding of oral health and to build an international network for better health within the aim. 
For more than three decades since the founding of the Japan Oral Care Conference as its predecessor to date, the Japanese Society of Oral Care has executed widely ranged researches and clinical educations not only in areas of medical science, dentistry, nursing science, dental hygiene, and speech-language-hearing therapy, but also in pharmaceutical sciences, social welfare, and dietetics fields contributing to the development of supportive therapy for various disease as well as promotion of healthy longevity and disease prevention of the public.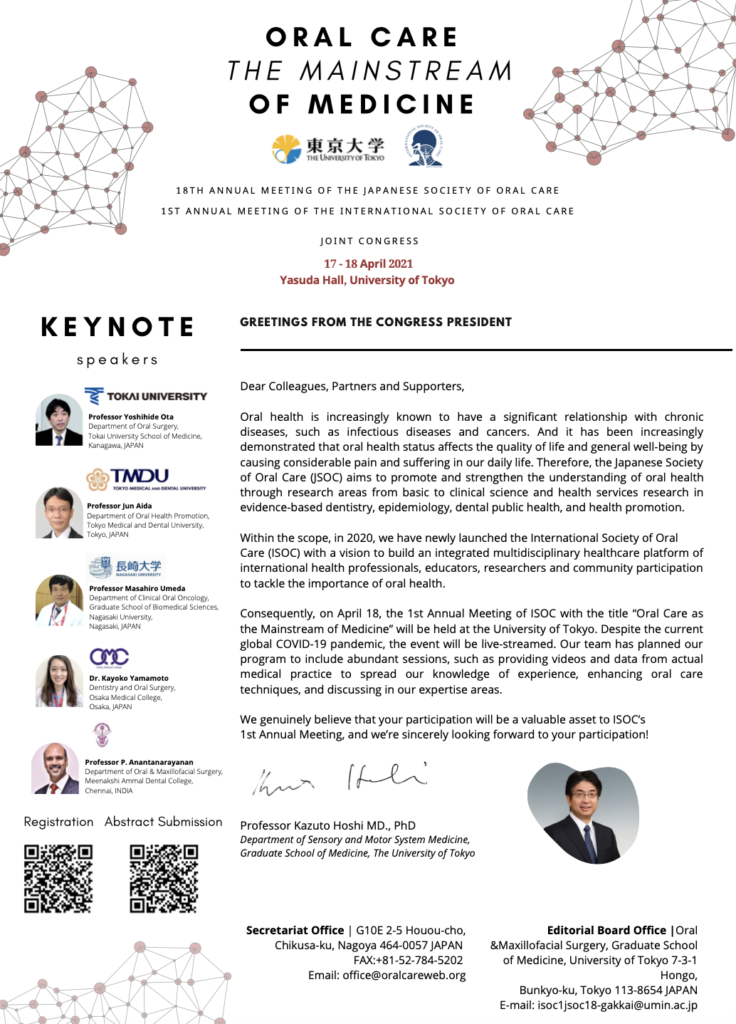 In 2021, the year when JSOC celebrates its the 30th anniversary, we establish International Society of Oral Care, with JSOC as a parent organization to share our findings and expertise globally and correspondingly to learn from the researches and experiences of the world, and to contribute on a world scale to address universal themes including health care and positive eating.
JSOC keeps the members motivated to work on oral care. We provide opportunities and platform for professionals engaged in the fields of health care, medical care, welfare, etc. to collaborate, and to practice, conduct training, survey, research, and exchange information on oral care both on healthy and disabled people, at home or hospitalized.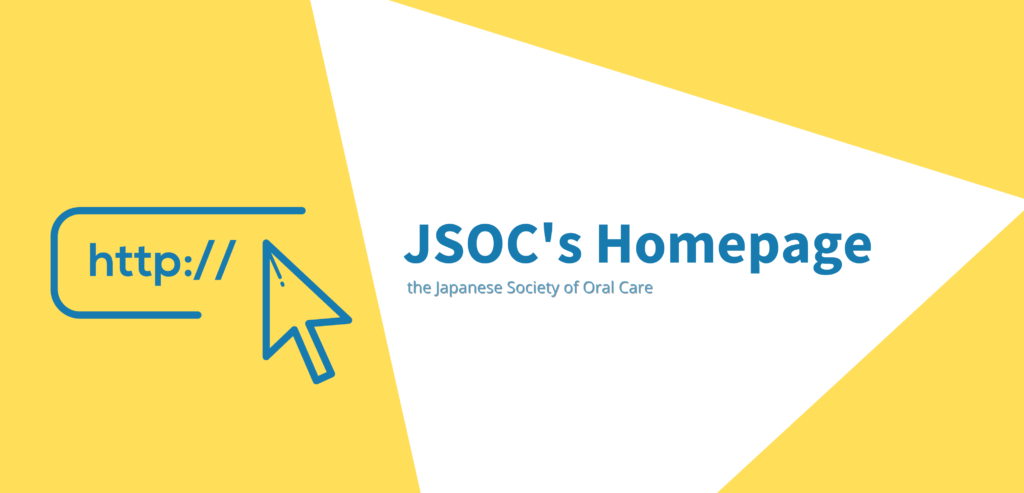 | | | | |
| --- | --- | --- | --- |
| 1 | President | Kazuto Hoshi | Professor,department of Oral and Maxillofacial Surgery, Division of Sensory and Motor System Medicine, Department of Surgery, Graduate School of Medicine, The University of Tokyo |
| 2 | Executive director and Secretary-general | Natsume Nagato | Professor, Department of Dentistry, Aichi Gakuin University, Head of the Department of Dental care, Head of the Department of Speech Therapy |
| 3 | Director | Aoyagi Kimio | Secretary of Nagoya Chikusa-ku Dental Association, Director of Aoyagi Dental Clinic |
| 4 | Director | Umeda Masahiro | Professor, Department of Oral and Maxillofacial Surgery, Graduate School of Biomedical Sciences, Department of Medical science, Nagasaki University |
| 5 | Director | Ikegami Yumiko | Chief Dental Hygienist, Department of Nursing, Oral and Maxilofacial Surgery, Cancer and Infectious Disease Center, Tokyo Metropolitan Komagome Hospital |
| 6 | Director | Higashino Tokuko | Professor of Adult Nursing, Toyoda University of Nursing, Red Cross, Japan |
| 7 | Director | Makino Hiyori | Associate Professor, Department of Health sciences, Faculty of Psychosomatic Sciences, Aichi Gakuin University, Former Executive Director of Japan Association of SPeech and Hearing Therapists |
| 8 | Director | Yasui Toshikazu | Meikai University, President |
| 9 | Director | Tanzawa Hideki | Specially appointed Professor of Dental Science, Graduate School of Medicine, Chiba University |
| 10 | Director | Nakamura Seiji | Professor, Director of Graduate School of Dental science, Director of the Faculty of Dental Science, Kyushu University |
| 11 | Director | Arasaki Akira | Former Professor, Department of Maxillofacial Rejuvenation, Graduate School of Medicine, University of Ryukyus |
| 12 | Director | Mori Etsuhide | Professor of Oral and Maxillofacial Surgery, Chair of Oral and Maxillofacial Pathology, Graduate School of Dental Science, Kyushu University |
| 13 | Director | Itoda Masataka | Professor, Department of Oral Health, Faculty of Medicine and Health Care, Osaka Dental University |
| 14 | Director | Nakajima Nobuhisa | Professor of Medicine, Department of Regional Medicine, University of Ryukyus |
| 15 | Director | Takeshima Hiroshi | Professor, Department of Dentistry for the Elderly, Division of Pathological Diagnosis and Treatment, School of Dentistry, Meikai University |
| 16 | Director | Ueno Takaaki | Professor, Department of Oral Surgery, Department of Sensory Functional Morphology, School of Medicine, Osaka Medical University |
| 17 | Director | Saijo Hideto | Associate Professor of Oral and Maxillofacial Surgery, Department of Surgery, Graduate School of Medicine, The University of Tokyo |
| 18 | Director | Kawamata Hitoshi | Chief Professor of Department of Oral and Maxillofacial Surgery, School of Medicine, Dokkyo Medical University |
| 19 | Director | Tanaka Akira | Chair Professor of Oral Surgery, School of Life Dentistry at Niigata, The Nippon Dental University |
| 20 | Director | Suzuki Noriko | Associate Professor of Midwifery, Maternity nursing, Faculty of Health care and Nursing, Juntendo University |